Dear Partners, Associates, and Interested Public,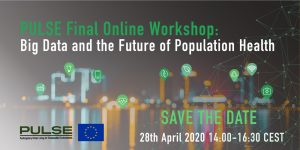 We are pleased to invite you to the Online Final Workshop of PULSE – Participatory Urban Living and Sustainable Environment project "Big Data and the Future of Population Health", which will take place on 28th April at 14:00 – 16:30 CEST.
The aim is to show the results of this three-years H2020 project. The PULSE consortium wants to reach out public health organisations, big data and AI experts, urban planners and any interested stakeholders who wish to learn about our results and share ideas on the future of population health science and policies in urban settings.
Please feel free to forward the invitation to your colleagues.
More about the agenda and how to register can be found here